ABT•TRAC Digital Stabilization Systems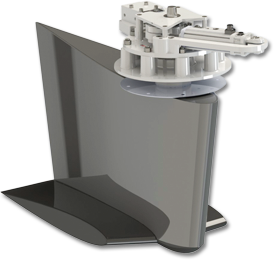 "Dramatic" is the only word that comes close to describing the performance of an ABT•TRAC marine stabilizer system compared to any first generation yacht stabilizer. Other stabilization products provide some degree of "roll dampening," but the ABT•TRAC marine stabilizer virtually eliminates roll altogether.
TRAC digital stabilizers dramatically improve ride comfort in any sea-state or wave angle. Fins are available in sizes ranging from .4 to 4.1 square meters; accommodating boats from 39 - 225 ft. ABT•TRAC's three-term control detects vessel motion and instantly adjusts fin position to counteract roll. ABT•TRAC's exclusive fin and winglet are computer optimized to generate more anti-roll force and less drag than conventional fins.
ABT•TRAC actuators feature a unique fail-safe capability that mechanically locks the fins when required. No more lifting floorboards or trips to the bilge to "pin the fins."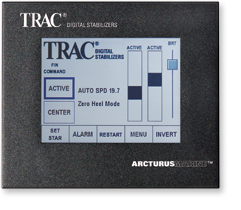 ABT•TRAC's exclusive touch-screen LCD user panel is simple and intuitive to operate. With one-touch activation, it automatically adjusts for changes in sea-state, wave angle and vessel speed. The panel features large text and graphic keys. All important information is displayed on the home screen. Low profile and small size (4" x 4.75") allow for easy mounting.
The ABT•TRAC pilothouse panel is a backlit LCD with a touchscreen for command entry. On/Off control is as simple as pressing a button on the screen. There are no special adjustments required for different sea states. The ABT•-TRAC marine stabilizer automatically adjusts to any sea state for maximum boat stabilization.
ABT•TRAC's line of digital stabilization systems features 7 unique products, each optimized for a specific vessel type. For more information, please refer to the product brochures and spec sheets below:
Configure My Vessel
We can help you configure & price your thruster and stabilizer system.
CONTACT US!