TRAC Get Home Drive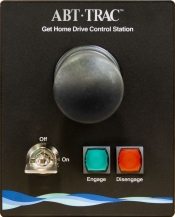 The TRAC Get Home Drive is a hydraulically driven gearbox mounted on your main engine propeller shaft to provide and alternate means of propulsion should the main engine be off or disabled. Using the vessel's generator(s) or alternate engine prime mover, hydraulic power is directed to the hydraulic motor on the TRAC Get Home Drive providing either forward or reverse continuous duty operation as needed to cruise or maneuver the vessel. Engagement, disengagement, direction and speed control of the TRAC Get Home Drive is accomplished by the use of a remote control panel mounted in the vessel Pilothouse.
To offer superior speed optimizing flexibility the TRAC Get Home Drive utilizes an exclusive split case design which allows changing of the drive gear set ratio and hydraulic motor displacement without removal from the vessel, saving time and cost. The TRAC Get Home Drive completely disconnects from the hydraulic motor drive when not in use reducing wear, heat generation and drag. Lubrication is provided by a simple oil sump splash design inside a sealed case. The TRAC Get Home Drive is designed to be robust and reliable providing peace of mind when it really counts.

Fully self-contained unit remotely engaged from pilot house
Works with TRAC hydraulic systems
Multiple gear ratios available to match your design requirements
Fits 2" through 4" propeller shafts
Slides over propeller shaft (no cutting or welding necessary)
Solid gear drive with 100% duty cycle (no belts or chains)
Spring loaded actuator prevents accidental engagement of drive gear
Very low maintenance
For more information, please refer to the product brochures and spec sheets below:
Configure My Vessel
We can help you configure & price your thruster and stabilizer system.
CONTACT US!